10 New Strains to Get Excited About in 2020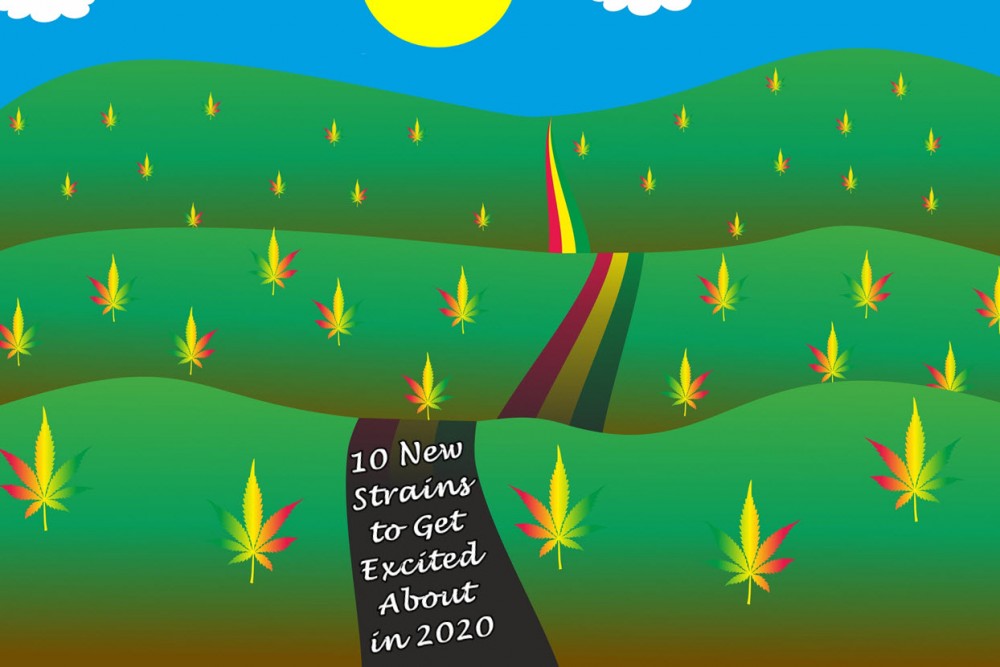 With global uncertainty abound and a looming climate crisis about to grip humanity, it can be easy to succumb to hopelessness and anxiety. Thankfully, the new year isn't all about doom and gloom. There are a few things to be thankful for, too, like new cannabis strains and products. In this article, we delve into 10 strains we think show a lot of promise.
1. Wedding Flowers (Feminized)
A newly released feminized cannabis strain from Dr. Krippling that's a reworking of the popular Wedding Cake genetics, which resulted in a fragrant rich-flavored indica/sativa hybrid that packs a punch at 20 percent THC levels.
2. Black Cherry Punch (Feminized)
A delicious new strain from Pyramid Seeds that's high in THC at 25 percent and is the result of a cross between Blackberry Kush and Cherry Pie, making it a 90 percent Indica strain.
3. South Plant (Feminized)
A cutting edge 75 percent sativa hybrid from Plant Organic Seeds that's a cross of a South African sativa with South India genetics. The result are buds that are fruity and earthy and that produce a potent, cerebral high.
4. Mamacita's Cookies (Feminized)
This potent 65 percent Indica hybrid is the result of crossing Girl Scout Cookies with a strain called Nicole. At 25 percent THC, it's said to have a complex, sandalwood scent and highly therapeutic properties.
5. Cosmic Bomb (Autoflowering)
Produced by Bomb Seeds, this autoflowering strain is a result of crossing a high THCV LSD cutting with an African landrace sativa strain, which produces pungent, fruity buds that have a psychedelic effect and comes with 16 to 20 percent THC.
6. Auto Kong 4 (Autoflowering)
Part of Tommy Chong's personal line, this new autoflowering strain is the result of Chong's collaboration with Paradise Seeds. Its effects are said to be relaxing and euphoric, with 16 to 20 percent THC.
7. God Lemon (Regular)
Developed by Massive Creations, this Indica strain gives off a fragrance that's reminiscent of lemons and flowers, with a heavy dash of kush. It's bred from the rare Adonai strain and Lemon Versace.
8. Tangie Cookies (Regular)
A cross of Tangie and Girl Scout Cookies, hence the name, this strain boasts a sweet, citrusy and cookie-like flavor. It's bred by BC Bud Depot and at 28 percent THC is a Sativa-dominant strain.
9. FroYo Auto (Autoflowering)
Developed by G13 Labs, FroYo is an autoflowering strain that's a cross of Sunset Sherbet and Girl Scout Cookies, with autoflowering qualities from the crossing of ruderalis. It imparts buds that are fruity, woody, and earthy and produce both physical and cerebral effects that feel notably balanced.
10. The New (Feminized)
A recent release from Humboldt Seed Organization, this strain is a cross of Sherbinski's Girl Scout Cookies and Larry OG. It gives users a deep and ultra-relaxing high thanks to it being an Indica-dominant hybrid, with high levels of THC at 28 percent.
What are feminized, regular, and autoflowering cannabis seeds?
Feminized – These seeds have been treated in order to make them female so that they produce flowers. They're easier to grow and aren't too unstable to reproduce. If you want to start growing, feminized seeds are recommended as good seeds to start with. With this type of seed, there won't be any unwanted surprises.
Regular – These seeds have both male and female seeds in a 50-50 proportion. In order to find out which are male and which are female, they must first be germinated and grown until they begin to show their sex, ie. produce pre-pollen sacs for male, or produce pre-flowers for female. Afterwards, the male seeds can either be discarded or used to breed more plants, while the females can be used to produce actual buds.
Autoflowering – These seeds are the easiest to grow as they flower automatically when they reach a certain age, regardless of the amount of light they're exposed to. This makes them ideal for balcony growing or in places that don't have many hours of sunlight. Most often, they're crossings of Cannabis ruderalis and Cannabis Indica or Sativa.
Cannabis ruderalis strains come from places where light is limited, which results in the plant being forced to flower and reproduce as quickly as possible. The popularity of autoflowering seeds have skyrocketed in recent years due to their ease of growing. The only conceivable downside is that, compared to feminized strains, their yield is considerably less.
So whether you're looking to grow or just want to scope out what's new on the market, keep this list as a handy guide to help you navigate this year's best and brightest. This list is by no means definitive and we still encourage you to do your own research to determine what's best for you.
NEW CANNABIS STRAINS, DID YOU TRY THEM?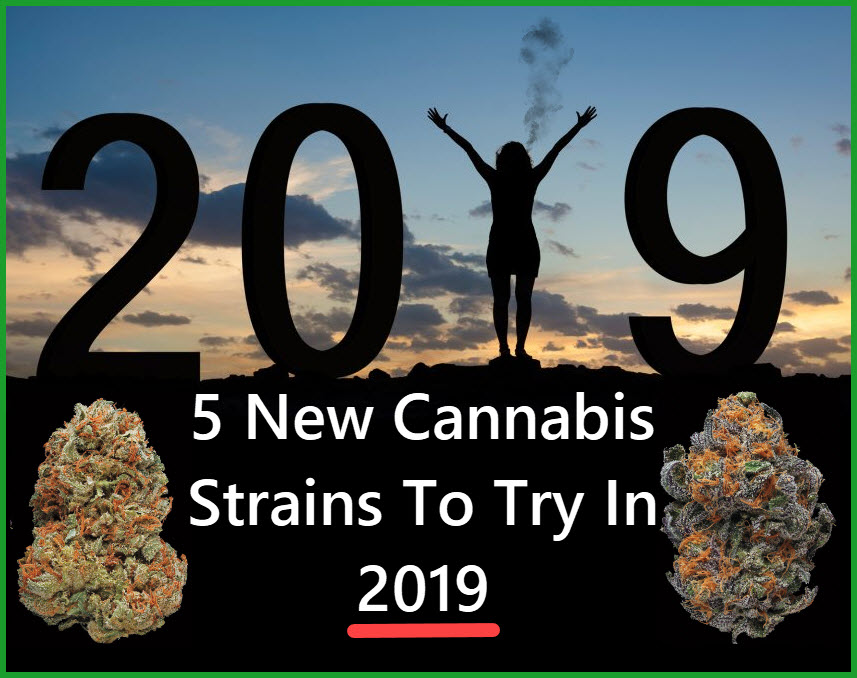 WHAT ARE GOOD NEW CANNABIS STRAINS TO TRY THIS YEAR?
OR..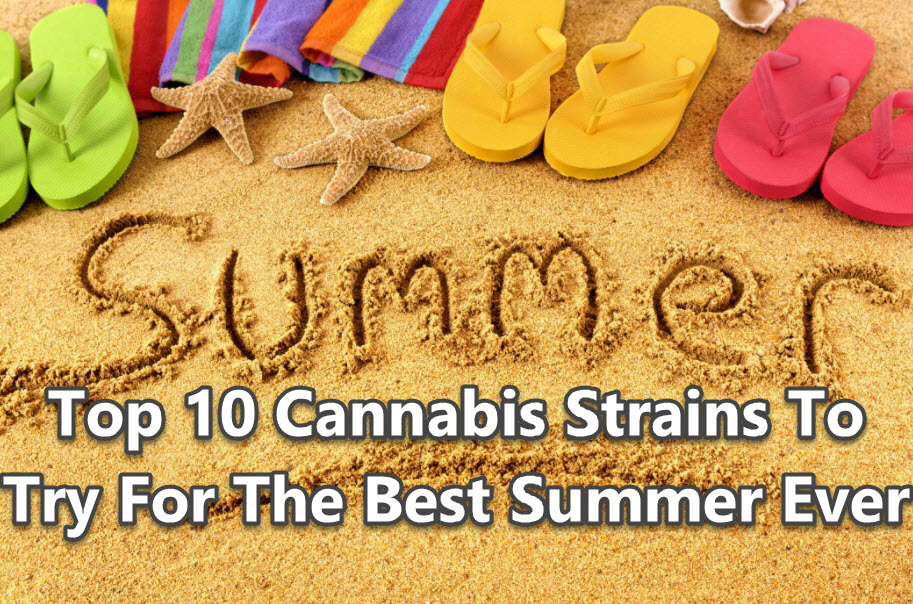 CANNABIS SUMMER STRAINS TO TRY OUT THIS YEAR.