Weed Laws Around the World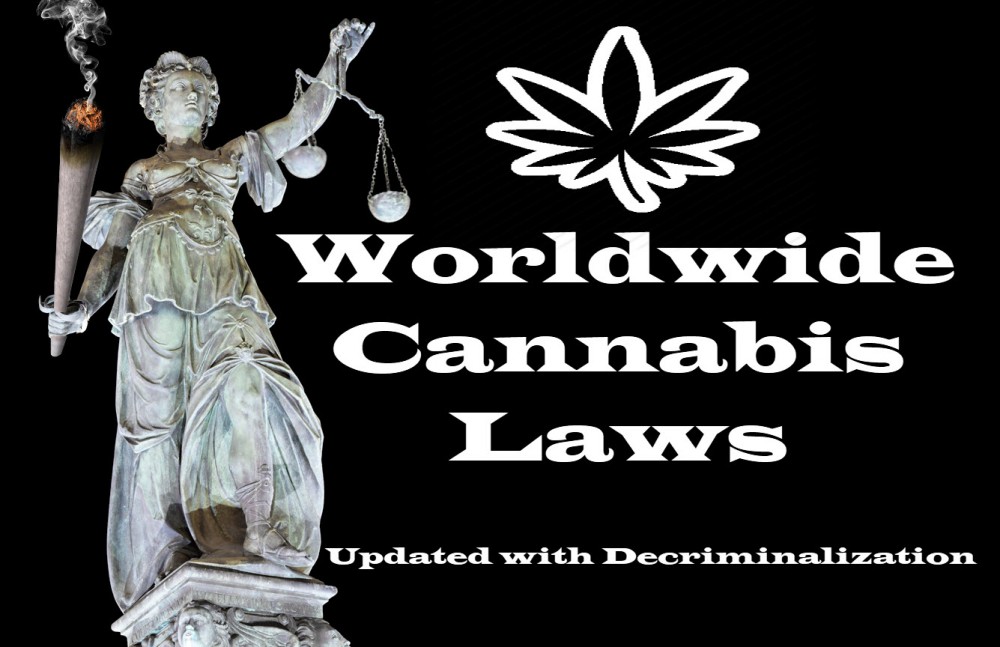 North America has some of the most progressive cannabis laws in the world. In Canada, recreational cannabis use was legalized in 2018. In the United States, currently, 11 states, the District of Columbia, and Guam (a US territory) have fully legalized recreational use. But where else can you light one up with no repercussions? Here's our definitive list as of November 2019.
Countries that have legalized recreational cannabis use:
Canada
Georgia
South Africa
Uruguay
*11 states and DC in United States
*Australian Capital Territory in Australia beginning January 2020
Countries that have legalized medical cannabis use:
Argentina
Australia
Bermuda
Canada
Chile
Colombia
Croatia
Cyprus
Czechia
Denmark – Legalized as part of a four-year pilot program that began in January 2018
Finland – Legal under license
Georgia – Legal but no system exists for dispensing medical cannabis
Germany
Greece
Ireland – Legalized as part of a five-year pilot program that began in June 2019
Israel
Italy
Jamaica
Lithuania
Luxembourg
Malta
Mexico – Legal for medical use given the THC content is below 1 percent
Netherlands
New Zealand
North Macedonia
Norway
Peru
Poland
Portugal
San Marino
South Africa – Legal but no system for dispensing medical cannabis exists
South Korea – Legal though only Epidiolex, Marinol, and Sativex are permitted; the plant itself is unavailable
Sri Lanka
Switzerland
Thailand
United Kingdom – Legal for special cases such as severe epilepsy, vomiting/nausea caused by chemotherapy, and multiple sclerosis
*33 states, 4 territories, and DC in United States
Medical cannabis-derived drugs or use is allowed with special permit:
Austria
Belgium
Brazil – Sativex is available
Estonia – Special permit needed
France
Peru – Special permit needed
Philippines – Special permit
Romania
Slovenia
Spain
Turkey
Decriminalized recreational use:
Antigua and Barbuda
Argentina
Australia – Northern Territory and South Australia
Austria – Possession for personal use decriminalized as of January 2016
Belgium – Up to 3 g or cultivation of one plant
Belize – Up to 10 g
Bermuda – Up to 7 g
Bolivia – Up to 50 g
Chile – For possession and cultivation
Colombia – Up to 22 g or cultivation of 20 plants
Costa Rica
Croatia
Czechia – Up to 10 g or cultivation of 5 plants
Ecuador – Up to 10 g
Estonia
Israel
Italy – For religious usage, legal below 0.6 percent THC
Jamaica – Up to 2 oz or cultivation of 5 plants, legal for Rastafari
Luxembourg
Malta – Up to 3.5 g
Mexico – De facto legal for personal use re possession and cultivation
Moldova
Netherlands – Up to 5 g, cultivation up to 5 plants for non-commercial use
Paraguay – Up to 10 g
Peru
Portugal – Up to 25 g or 5 g of hashish
Saint Kitts and Nevis – Up to 15 g
Slovenia
Spain – Use and possession in private areas allowed, public consumption can result in fine from 601 to 30,000 Euro, cultivation for private use allowed including Cannabis Social Clubs
Switzerland – Legal below 1.0 percent THC
United States – In 15 states and 1 territory
Countries where it's illegal but often not enforced:
Bangladesh
Cambodia
Egypt
Finland
Germany – Illegal but occasionally tolerated; prosecution for possession of 'small amounts' is optional
Iran
Laos
Lesotho
Morocco
Myanmar
Pakistan
Poland – Sometimes not enforced for small amounts and is legal below 0.2 percent THC
Thailand
Countries where it's wholly illegal, both recreational and medical:
Afghanistan, Albania, Algeria, Andorra, Angola, Armenia, Azerbaijan
Bahamas, Bahrain, Barbados, Belarus, Benin, Bhutan, Bosnia and Herzegovina, Botswana, Brunei, Bulgaria, Burkina Faso, Burundi
Cameroon, Cape Verde, Central African Republic, Chad, China, Comoros, Democratic Republic of Congo, Cuba
Djibouti, Dominica, Dominican Republic
East Timor, El Salvador, Equatorial Guinea, Eritrea, Eswatini, Ethiopia
Fiji
Gabon, Gambia, Ghana, Greenland, Grenada, Guatemala, Guinea, Guinea-Bissau, Guyana
Haiti, Honduras, Hong Kong, Hungary
Iceland, Indonesia, Iraq
Ivory Coast
Japan, Jordan
Kazakhstan, Kenya, Kiribati, Kosovo, Kuwait, Kyrgyzstan
Latvia, Lebanon, Liberia, Libya, Lichtenstein
Macau, Madagascar, Malawi, Malaysia, Maldives, Mali, Marshall Islands, Mauritania, Mauritius, Micronesia, Monaco, Mongolia, Montenegro, Mozambique
Namibia, Nicaragua, Niger, Nigeria
Oman
Palau, Panama, Papua New Guinea
Qatar
Russia, Rwanda
Saint Lucia, Saint Vincent and the Grenadines, Samoa, Sao Tome and Principe, Saudi Arabia, Senegal, Serbia, Seychelles, Sierra Leone, Singapore, Slovakia, Solomon Islands, Somalia, South Sudan, Sudan, Suriname, Sweden, Syria
Taiwan, Tajikistan, Tanzania, Togo, Tonga, Trinidad and Tobago, Tunisia, Turkmenistan, Tuvalu
Uganda, Ukraine, United Arab Emirates, Uzbekistan
Vatican City, Venezuela, Vietnam
Yemen
Zambia
Cannabis laws are changing every year. The fact that the countries that have banned it greatly outweigh those who have pushed for legalization doesn't necessarily mean that legalization is impossible in those countries. This issue is expected to continue to be an ongoing discussion across the globe in the coming years, especially as reform continues to be seen all over the world.
In Europe and South America, a domino effect is expected to occur as more and more countries in those continents push for legalization. In Asia, even countries known for their strict stance on drugs like Japan, Singapore, and China have been involved in research that look into cannabis' medical applications. This shows we can expect more progressive reforms involving cannabis in the next 10 years. Until then, make sure you're up to speed on how cannabis laws differ from country to country.
UPDATED CANNABIS LAWS, READ MORE…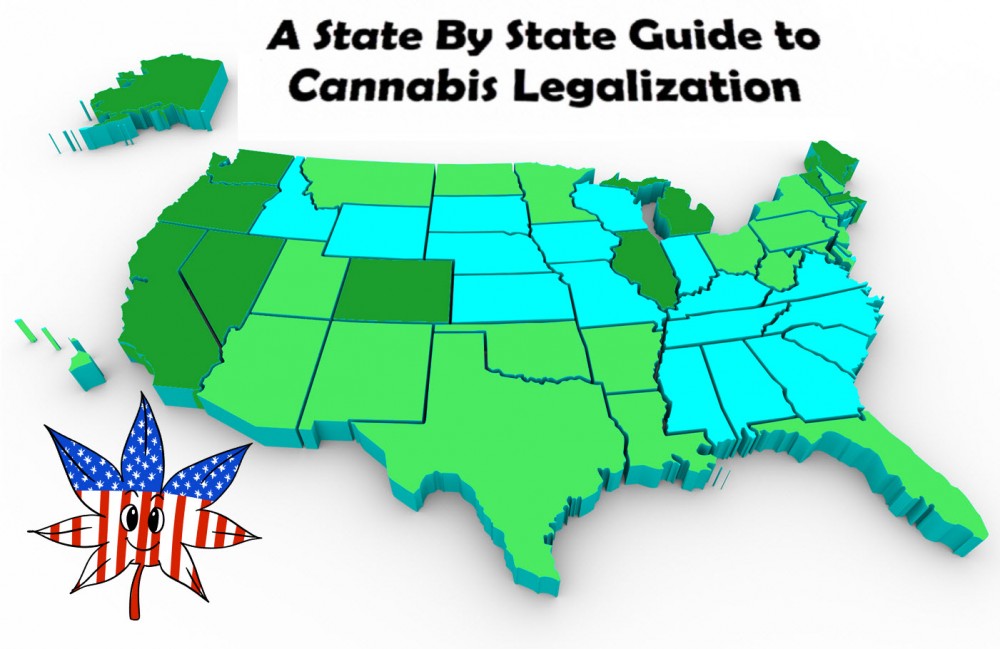 STATE BY STATE MARIJUANA LAW UPDATED GUIDE, CLICK HERE.
OR..
THE MEDICAL MARIJUANA GUIDE BY COUNTRY IN 2018